Undergraduate Program
Program Educational Objectives
The undergraduate program leading to the B.S. degree in Computer Science offers a quality program of instruction that prepares students for a successful career in computer science or for entry into a post-baccalaureate graduate program.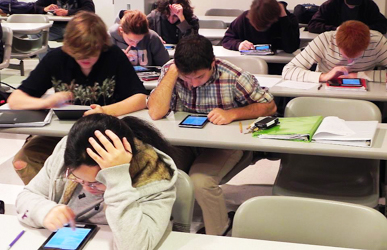 Graduates will exhibit an understanding of the practice and principles of computer science and be prepared to engage in further learning.
(Aligns with student learning outcomes 1, 2, 6, 7)

Graduates will demonstrate the ability to communicate effectively with a range of audiences, and to function effectively on teams to accomplish a common goal.
(Aligns with student learning outcomes 3, 5)


Graduates will understand their responsibilities to individuals, organizations, and society, both locally and globally.
(Aligns with student learning outcome 4)
Click here for specific student learning outcomes.
---
Co-curricular Options
There are several active student clubs; and many students participate in an internship.
---
Data Dashboards
Some program data you might find interesting and helpful:
---
Appalachian State University is located in Boone, NC in an area known as the High Country in the beautiful Blue Ridge Mountains of North Carolina.
Students have access to a variety of outdoor activities throughout the year, including hiking, camping, biking, snow and water skiing, rock climbing, whitewater rafting, and swimming. In addition, Appalachian provides cultural events in the month-long "An Appalachian Summer" in July and throughout the year in the form of plays, symphonies, art exhibits, and invited lectures.
Charlotte and Greensboro are within a 2-hour drive with the Raleigh/Durham/Research Triangle Park area within a 3-hour drive.